Balsamic | 100% Extra Virgin Olive Oils | Infused Olive Oils | Special Offerings | Private Labels
BIG PAW Grub uses only 100% certified California first cold pressed extra virgin olive oil for our flavor infused olive oils. This high quality olive oil provides the ideal carrier for the natural flavorings that we use. We specialize in wild herbs and mushrooms that are gathered in the field. These foraged herbs or mushrooms are designated on the bottle along with the location and year of harvest. For example, our Wild Sage Olive Oil bottle notes that the sage is harvested in the Mayacamas Mountains of northern Napa Valley.
Because our ingredients are foraged by hand, our window for harvest is limited by nature to a few weeks every year. In 1997 the harvest for sage ran from late summer until the beginning of the rainy season. During that short time we gathered as much sage as possible, taking care to pick only the best runners. This painstaking process for our wild flavorings means there is a low yield, and that we frequently run out before the next year's harvest.
We practice minimal movement of our oils and vinegars, believing that high speed bottling has an overall negative impact on the product. Powered pumps and high-pressure movement of the oil through hoses, hoppers and tanks oxidizes the oil and increases the possibility of contamination. We move our oil by gravity and via presurized nitrogen in sealed stainless steel tanks. — a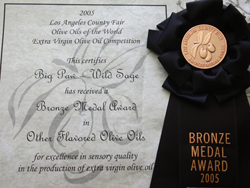 movement distance of only 6 feet from barrel to bottle keeps exposure to air at a minimum.
Our flavor infusion process is done individually in the bottle. Each bottle is heat pasteurized and corked while warm. This helps to contribute to the robust flavor and insures that each bottle is sterile and wholesome. Slight variations in flavor may occur because not every branch of wild sage is the same! However all of the flavors in the BIG PAW line have intense flavor — this is the main difference between BIG PAW olive oil and other flavored olive oils on the market. Not all oil & vinegar infusers go through the labor intensive process used at BIG PAW. We produce the highest quality full flavored oils and vinegars on the market.
You will TASTE the difference.! Absolutely NO SHORT CUTS are taken.
The entire process is as slow as Tio was himself…
Mission Fig Balsamic Vinegar
Fresh Figs are reduced to a black syrupy goo and then blended with our Dry Balsamic Vinegar. A Big Yum!! 4.5% acidity.
Shipping Weight: 2 lb.
$15

Blonde Balsamic Vinegar
A barrel aged White Balsamic with a distinct Moroccan style spiciness that plays well with the sweetness of the vinegar. Finishes clean. 5.4% acidity.
Shipping Weight: 2 lb.
$15

Rosemary and Orange White Balsamic Vinegar
Fresh rosemary and hand-peeled orange zest deliver a bold forward taste to the fruity Muscat. A great vinegar for salads, but even better wih seafood and as a sauce addition. 5.6% acidity.
Shipping Weight: 2 lb.
$15

Apricot Lavender Balsamic Vinegar
Ripe and luscious! So seasonal, we have a waiting list! Th is is a great marinade and as a salad dressing with bleu cheese, honey and pecans… trendy and tasty. Reduce with a pat of butter for GREAT glazings.
Shipping Weight: 2 lb.
$15
Peach & Cinnamon Balsamic Vinegar
Ripe & luscious peaches are slowly reduced with Chardonnay and Muscat grapes to produces this sweet vinegar. A bit of cinnamon stick in the bottle spices it up. 4.7% acidity.
Shipping Weight: 2 lb.
$15
White Balsamic Vinegar
Our White Balsamic is made from Chardonnay and Muscat grapes and aged in stainless steel to retain its clear color and fresh clean taste. 6.0% acidity.
Shipping Weight: 2 lb.
$15
Classic Balsamic Vinegar
Cabernet and Zinfandel are boiled down and aged in small barrels with local woods and herbs to produce our unique balsamic-style vinegar. 5.9% acidity.
Shipping Weight: 2 lb.
$15
Smoked Chili Apple Cider Vinegar
Chipotle chilis steeped in our Sonoma Country Gravenstein Apple Cider Vinegar. Great with fish & chips, with crisp salads and as a marinade. 5.2% acidity.
Shipping Weight: 2 lb.
$15
[100% EXTRA VIRGIN OLIVE OILS]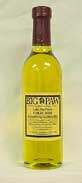 Late Harvest Gold
Blended with Manzanillo and Mission olives that were pressed in the winter when ripe and black, this oil is light and fruity with ripe olive flavor and a slight sweetness and nuttiness in the finish.
Shipping Weight: 2 lb.
$15

Manzanillo "Green" Extra Virgin Olive Oil
This 100% Manzanillo variety olive oil is pressed in the fall from green olives. A sharp and racy flavor highlighting green grass and pepper are the hallmarks of this pungent oil.
Shipping Weight: 2 lb.
$15
California "Gold" Extra Virgin Olive Oil
Blended from a variety of olives that were pressed in the winter when ripe and black, this light and fruity olive oil is buttery and exhibits notes of sweet almonds.
Shipping Weight: 2 lb.
$15
[INFUSED OLIVE OILS]
Basil & Garlic Extra Virgin Olive Oil
This was one of our fist products and still our #1 seller. Our "Gold" oil infused with fresh basil and garlic. Makes the best darn mayo we've ever had. Great on sandwiches or just dipping veggies!
Shipping Weight: 2 lb.
$15

Lemon & Pepper Extra Virgin Olive Oil
Very lemony with toasted black and white peppercorns. Pour directly on seafood, blend into a mayonnaise for seafood salads. Wonderful on steamed vegetables
Shipping Weight: 2 lb.
$15
Wild Fennel Extra Virgin Olive Oil
Our wild fennel is hand-harvested and winnowed in the field before being infused into our Gold Extra Virgin Olive Oil. Wonderful for saute with fish or eggs and makes and outstanding tartar sauce!
Shipping Weight: 2 lb.
$15
Oil of Tears HOT Extra Virgin Olive Oil
VERY HOT!! A blend of five chilis that we grind outside with a fan blowing so no one gets hurt. If you get past the hear, there are layers of chili flavor. Vinegar will help clear the sting.
Shipping Weight: 2 lb.
$15
Spaghetti Western Dipper
Sweet balsamic vinegar with gorgonzola cheese, oregano and garlic (Spaghetti) is blended with our Smoked Chili Extra Virgin Olive Oil (Western) makes this great on just about anything.
Shipping Weight: 2 lb.
$15
Balsamic Bread Dipper
Our California Extra Virgin Olive Oil is paired with our sweet balsamic vinegar and our blend of herbs with a dose of garlic, a squeeze of lemon and a pinch of red pepper. A classic.
Shipping Weight: 2 lb.
$15
Wild Porcini & Nepitella Olive Oil
This oil is a blend of wild boletus mushrooms and nepitella — an herb which adds a woodsy and slight mint character that is a perfect match with the earthiness of mushrooms. Elegant on warm pasta or as a bread dipper with aged cheese.
Shipping Weight: 2 lb.
$25

Wild Porcini Cabernet Vinegar
The rich bold flavors of our cabernet sauvignon wine vinegar hold up to the intense earthiness of Howell Mountain mushrooms. Try with meats, antipasti and root vegetables.
(250 ML)
Shipping Weight: 2 lb.
$20

Wild Sage Apple Cider
This olive oil makes an outstanding fresh aioli that is wonderful with vegetables and roasted meats. It is a natural choice for slow cooking. It works very well with bleu cheese, skillet potatoes and poultry. Matches well with Old Vine Zinfandels and Thanksgiving Dinners.
Shipping Weight: 2 lb.
$20
***
Big Paw prides itself on delivering unique and high-quality products to our customers. Because to us, customer satisfaction is the most important aspect of our business. As part of this philosophy, we also offer PRIVATE LABELLING to all our customers. Here's the process: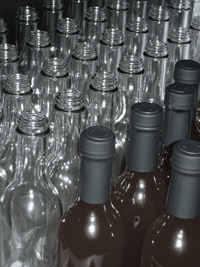 Select an olive oil, bread dipper or vinegar that you think your customers, family, friends, colleagues, and/or clients will enjoy. Design a label (or have us design one) with YOUR NAME, YOUR LOGO, YOUR MESSAGE, OR EVEN YOUR PICTURE on it. Decide on the appropriate quantity. Call us to fine-tune the details and place your order. It's that easy!
Imagine the possibilities… you can have a delicious, high-quality, gourmet olive oil or vinegar labeled with your personalized label. This can be given away as parting gifts for your wedding or parties, for family and friends during holidays, for clients and customers to show your appreciation, or, if you own your own business, you can even resell the product in your store (Big Paw currently does private labelling and individualized product development for half a dozen companies.) We've done private labelling for hotels, restaurants, retail stores, and more. Our many custom ers have included the Grosvenor Hotel, Sutter Home winery, Hare Hollow Gourmet Products, Pink Mansion Bed & Breakfast, Folie a Deux winery in Napa Valley, Zino's Restaurant, Brutocao vineyards, the Smokehouse Cafe, Napa Valley Ovens bakery, AccountantsUSA, and more.
Our facilities allow us to label your bottles either using a paper label (like we do our own bottles), using silk-screening to give it a sleek finish or using professional etching (carving your name, logo, etc. directly onto the bottle). In addition, we can gift-wrap, raffia-tie, dip wax tops for your bottles, and otherwise personalize your order. Minimum purchase is 12 bottles (1 case) and prices will vary based on what you would like done. Just contact us and we can discuss ideas.
Call us at (707) 647-1449 or email us at [email protected] and place your order today!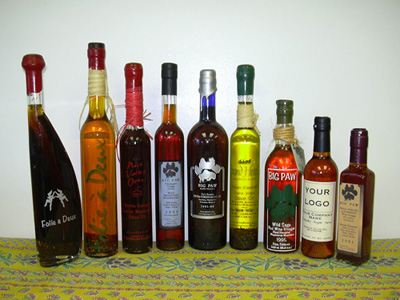 click here for more info on Private Labels
To browse more of our products and order online, please visit our online store by clicking here.
To order by phone, please call us at (707) 647-1449.
SIGN UP ON OUR INTERNET MAILING LIST! Get special online deals and coupons, as well as news about the company. And you don't have to worry about spam mail– we NEVER give out our customer's information and we only send out newsletters once every few months. Click here to join our mailing list!
Thank you!